JAPANESE TEAM WINS OZ RULES TOURNEY!

The all-Japanese team, the Samurais, have become the first Japanese-based team to win an international Australian Rules Football tournament. In front of an awestruck international gathering, they showed silky smooth skills and overcame a tough draw to remain undefeated in the face of competition from Indonesia, Australia, Ireland and even their local rivals the Tokyo Goannas. Click here for more...

By Gareth Jones Vice President, Tokyo Goannas

The BFCMastersTSD football team bombed at the Sapporo/Guinness 4X4 tournament recently, going out in the first round. However, the BFC team more than made up for this by winning the title! Go to www.bfctokyo.com for the full report.
TSD was at the recent England v Japan game in Manchester - photos and a report to follow...
On the more social side, on the 25th May the
Meguro Tavern
/TSD Yard of Ale Challenge was won by Jarmo Kauhanen of Finland. He downed the 3-pinter in 2mins. 39secs, 20 seconds faster than Tavern barman Takeshi. See you there!
More on Cricket from the Wombats - see the Directory.
Surfin' Mexico Way with John Buckley: see Archive & TSD Issue 5.
WELCOME
to
www.tokyosports.net
, the web version of
TSD
,
Tokyo Sports & Leisure Directory
. We are currently building this site and welcome your input, both in terms of content to add to our ever-expanding
Directory
, and general feedback.
Of course, if you wish to promote your event, company or sports/leisure-related product - either online or in our free magazine, please get in touch with us:
info@tokyosports.net
TSD NEWS! A new place to watch Sports in Shinjuku! The TAZ MAHAL Indian Restaurant has opened in Nishi Shinjku. As well as really great food - the lunchtime buffet is as good as they come - The Taz shows live sport. Tel: 3343 1718. Also,
the manager used to play football for India! Check it out.
Click here for more details on these and other TSD Events.
THE DIRECTORY
The heart of TSD! Click
HERE
for the most complete list of sports activities you will find anywhere!
Copyright 2004 Andy Hoodith
The 2nd TSD Yard of Ale Challenge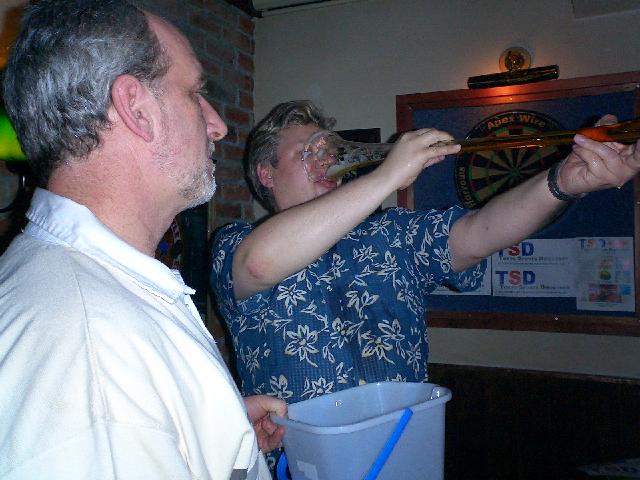 SuperFinn Jarno Kauhanan in mid-gulp, watched by Meguro Tavern landlord Garth.
Orie - founder of NOA.M., & TSD Cover Girl